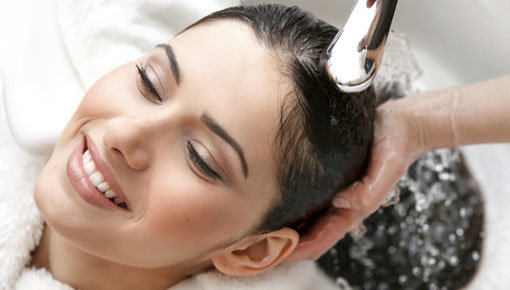 How to wash your hair the right way
By washing your hair in the right way you can improve the condition of your hair and scalp. In addition, your hair will look beautiful and shiny for a longer period of time. When you wash it well, you also don't have to wash your hair as often.
Ideal water temperature
Do not wash your hair with hot water because this will dry your hair and especially the ends. It will clean your hair well, but it will make it dry and fluffy. When you wash your hair with cold water, this is less pleasant and your hair does not get clean because the fat cannot dissolve. However, it does leave your hair shiny and does not dry it out as much.
The ideal water temperature for washing your hair is actually around 38 degrees (recommended temperature for a baby bath). When rinsing your hair, use colder water. This way your hair will both be clean and shine.
How often?
One has dandruff or greasy hair faster than the other. Generally speaking, it is best to wash your hair as little as possible. In this way your hair dries out less, eventually becomes less greasy and the color of your dyed hair remains intact longer. Twice a week should be sufficient for most people.
How to wash your hair the right way
Comb your hair before washing it. This way you do not have to comb your hair after washing as it is damaged more easily when it's wet. Start combing at the bottom and work your way up.
Wet your hair thoroughly before distributing the shampoo. Do not use too much shampoo. Using more shampoo does not necessarily mean that your hair becomes cleaner.
Make the shampoo a little foamy between your hands so that it is easier to distribute.
Apply the shampoo around your head and gently massage the scalp with the fingertips. Pay special attention to the hair around your face and neck.
Do you have long hair? Then do not fold it at the back of your head to rub the tips firmly ... Your ends cannot withstand this heavy-handed approach! Also, don't put your hair on top of your head as this will cause extra knots.
Take the time to rinse your hair well. The rinsing should take longer than the washing itself. Use plenty of lukewarm water when rinsing. If shampoo residues remain in your hair, it is heavier and therefore more difficult to model. In addition, it gets dirty faster because dust particles stick to your hair more easily.
Golden rule: Always wash your hair twice! The first time to clean: use shampoo the size of a raspberry in your palm. The second time to care: use half the previous amount of shampoo.
Your hair doesn't get greasy from frequent washing. Washing makes your hair cleaner. However, it can become greasy if you massage your scalp too hard or use water that's too hot. So try to avoid this!
Always use a Hair Conditioner or Hair Mask after washing. If you quickly suffer from greasy hair, apply it only to your hair ends and not to your scalp.
Rinse the Hair Mask or Conditioner carefully with lukewarm water until the water is clean and clear.
Rinse your hair with cold water for a while. In this way, the scales of the hair close and your hair becomes less fluffy and will shine more.
Pat your hair dry without rubbing.