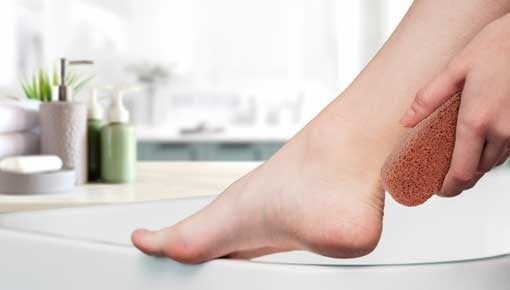 Foot Care
Our feet often have a hard time. Every day we take thousands of steps with them, we walk on high heels or force them in small, pinching shoes. They therefore deserve good care!
Your feet are your "third kidney." Many toxins that your kidneys cannot excrete can pass through the feet. This is due to the difference in PH value. Many toxins are also excreted through the skin in the form of a rash, red spots or acne.
Foot bath with Dead Sea salt
To relieve the skin and help your body to excrete toxins via the feet, you can regularly take a foot bath with Dead Sea salt. This also helps with athlete's foot, perspiring feet, swollen feet and cold feet. In addition, it works with many forms of skin rashes and bladder and kidney complaints. It can also provide support for detoxification and slimming cures.
For a foot bath, use half a cup of Dead Sea salt and water to the instep of the feet. You can also grind the salt with a mortar so that it is more easily absorbed by the water. You then dissolve it in hot water and supplement it with lukewarm water. Soak your feet for half an hour and then let them air dry.
Tip: drink a glass of water during and after the foot bath.
Prevent calluses and chapping
Scrub your heels 1-2 times a week to remove excess skin cells. Remove excess callus after every shower (then the skin is soft) with a lava stone.
Massage your feet daily with a moisturizing foot cream. Don't forget your cuticles and the space between the toes! Make sure the cream is absorbed well before putting on socks.
Read here what else you can do against calluses and fissures
Fungal nail infection
Do you suffer from a fungal nail infection? There are various products on the market that promise to help you get rid of this. However, these often give nasty side effects. Therefore, only try them if nothing else really helps.
Take a foot bath with Dead Sea salt 2 times a week.
Dab or soak in vinegar:
Short on time? Pat the nail twice a day with a cotton ball soaked in vinegar.
Enough time? Soak the nail in vinegar once a day for 15 minutes. This last option is the most effective, because the vinegar can also get through and under the nail. After two weeks of persistence, you will see an effect. Keep the nails short and regularly file the top of the fungal nail (or have this done by a pedicure).
Wash your feet daily, preferably without soap.
After each wash or shower, use a clean towel to dry the feet.
Dry your feet well, especially between the toes.
Wear clean socks every day.
Wear as many open shoes as possible and walk barefoot as much as possible.
Change shoes regularly.
Disinfect your shoes and socks with an antifungal agent.
Wear socks made of natural materials (cotton) and leather shoes.
Always wear slippers in communal bathing areas and saunas.
If this does not help, it is wise to consult your doctor.
Cheerful toenails
Once you have pampered and cared for your feet, your toenails are next for a makeover. Nail trimming can be done best after showering or after a foot bath.  Cut your nails straight and then file them into shape. Do not cut them too short!
If you want to polish your nails, polish them first with a nail buffer and always use a base coat before applying the color.